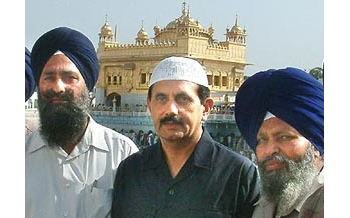 Rai Azizullah Khan at Harmandir Sahib (Golden Temple), Amritsar during the Kar Seva - March 2004.
350th Gurpurab of Guru Gobind Singh Ji, Special Postage Stamp
Malaysia issued a special postage stamp, having the photo of Guru Sahib's Relic Ganga Sagar and Rai Azizullah Khan, to commemorate the 350th Gurpurab of Guru Gobind Singh Ji on 5th January, 2017. Rai Azizullah Khan attended the celebrations at Sentul Gurdwara Sahib Kuala Lumpur from 5th to 8th January, 2017.
Ganga Sagar and Rai Azizullah Khan being welcomed at Sentul Gurdwara Sahib Kuala Lumpur on 5th January, 2017.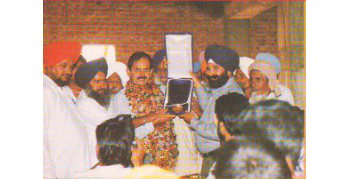 During his first visit in April 1999, Rai Azizullah Khan being presented a gold medal at Talwandi Rai, Tehsil Raikot, where Gurdwara Ganga Sagar was under construction. Talwandi Rai was founded by Rai Kalha I in 1478.
Kuala Lumpur, Malaysia, 1995
Jathedar Jagdev Singh Talwandi presenting Siropa and Sri Sahib to Rai Azizullah Khan in Gurdwara Tahliana Sahib, Raikot on 28th December, 2004. Raikot was founded by Rai Ahmed in 1648.
Haveli of Rais, Raikot, Raikot Survey Pustak, 1971, Bhasha Vibhag Punjab
In 1705 Guru Gobind Singh Ji went towards Machiwara after leaving The Fort of Anandpur Sahib. His two minor sons Baba Zorawar Singh Ji (9 years) and Baba Fateh Singh Ji (7 years) and his mother Mata Gujri Ji, got separated from him while crossing Sirsa nadi (river) during a dark cold night of December. Guru Sahib lost his two elder sons Baba Ajit Singh Ji (19 years) and Baba Jujhar Singh Ji (15 years) who attained martyrdom in the Battle of Chamkaur Sahib. In Machiwara, Ghani Khan and Nabi Khan, two Muslim horse dealers helped Guru Sahib by declaring him "Uchh Da Peer", a very famous Muslim saint from South Punjab, providing him with essential items and carrying him with great honour and respect on a palanquin, assisted by a few Sikhs and Muslims so that Guru Sahib leaves the area respectfully.
In those days of severe hardship, some Rajas refused even to offer help to Guru Sahib due to fear of death as Aurangzeb was after the life of Guru Sahib and his family. When Guru Sahib reached Raikot state, the Muslim Rajput Chief, Rai Kalha welcomed him and felt honored in offering his services to Guru Sahib as his guest for as long as he wanted to stay. Guru Ji spent a few days with Rai Kalha.
Guru Sahib on reaching Raikot asked Noora Mahi, who was grazing buffaloes in the fields, to serve him milk in Ganga Sagar which was a part of his personal belongings. Noora Mahi said that his buffaloes did not give milk. Guru Sahib told him to utter the name of God and start milking a buffalo. To the surprise and amazement of Noora Mahi, the buffalo gave milk and he collected it in the Ganga Sagar.
On Guru Sahib's desire Rai Kalha sent his trustworthy servant Noora Mahi to Sirhind, who brought the most tragic news of the martyrdom of Guru Sahib's mother, Mata Gujri Ji and his two minor sons, who were bricked alive.
Before leaving Raikot, in recognition and in appreciation of the services and hospitality extended by Rai Kalha, a Muslim Chief who risked his and his family's lives, Guru Gobind Singh ji presented Ganga Sagar, a sword and a Rehal (small wooden stand to read a religious book) to Rai Kalha as his personal gifts.
Till 1947 the Ganga Sagar was displayed by Khan Bahadur Rai Inayat Khan (Honorary Magistrate, Sub-Registrar Jagraon Tehsil, 1935) for darshan by sangat who used to walk bare-footed from Gurdwara Tahlianaa Sahib in Raikot, District Ludhiana to his haveli in Raikot.
The present custodian of Ganga Sagar is Rai Azizullah Khan (the 9th generation descendant of Rai Kalha III), grandson of Khan Bahadur Rai Inayat Khan and the heir of the Rai family who have kept this sacred gift of Guru Gobind Singh Ji with great respect and care for more than 300 years.
Gurdwara Chamkaur Sahib where Guru Gobind Singh ji's two elder sons Baba Ajit Singh ji and Baba Jujhar Singh ji, as well as three of the Five Beloved Ones (Panj Piarey) attained martyrdom.
Ganga Sagar Model at Gurudwara Tahliana Sahib, Raikot, Dist. Ludhiana, Punjab, India.
Kuala Lumpur, Malaysia, 1995
Ganga Sagar and Rai Azizullah Khan on their way to Raikot on 28th December, 2004
Rani Da Khooh at Raikot, Raikot Survey Pustak 1971
With Raikot Sangat in April 1999
At Raikot Haveli in April 2011